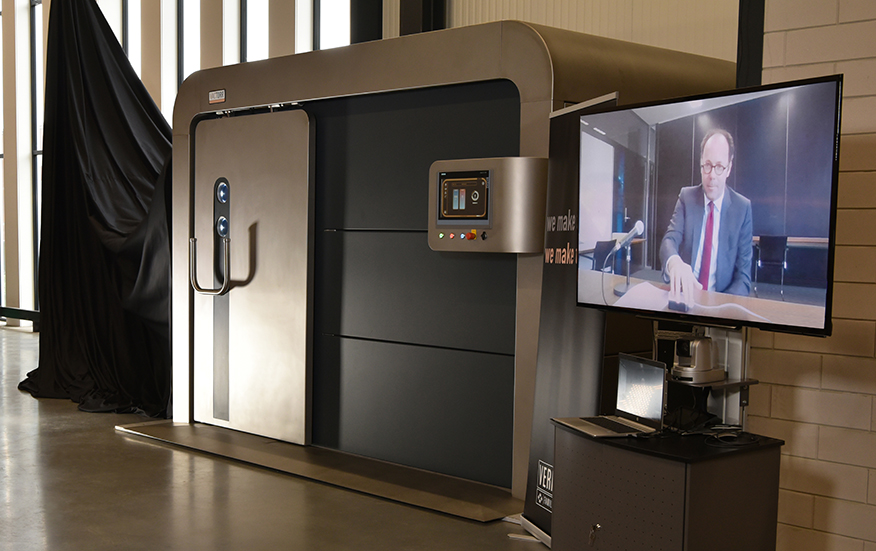 'Stay home as much as possible' leads to a unique virtual product introduction
The introduction of VACTORR, a new generation of Vacuum Cooling and Baking Solutions, was supposed to take place at the international trade fair 'Interpack' in Dusseldorf, Germany. Due to covid-19 plans had to be changed. The current covid-19 crisis calls for creative solutions in business to keep the economy running while at the same time distance is a symbol of the 'new normal'. The members of the Verhoeven Bakery Equipment Family – BVT, NewCap, Vacuum and Bakepack – were early adapters. In addition to all measures and new developments such as virtual Factory Acceptance Tests, Vacuum Cooling & Baking Solutions launched their latest development in a special and unique online revealing session.
Mr Martijn van Gruijthuijsen, the Deputy of Economy and Innovation for the Dutch province of Brabant, revealed the machine with a 'remote control' which was specially developed for the occasion. The machine was covered with a black canvas cloth. When the deputy pressed the button, 25 kilometers from his location the canvas was pulled off the machine. VACTORR was revealed.
Check the video: https://vimeo.com/452596502