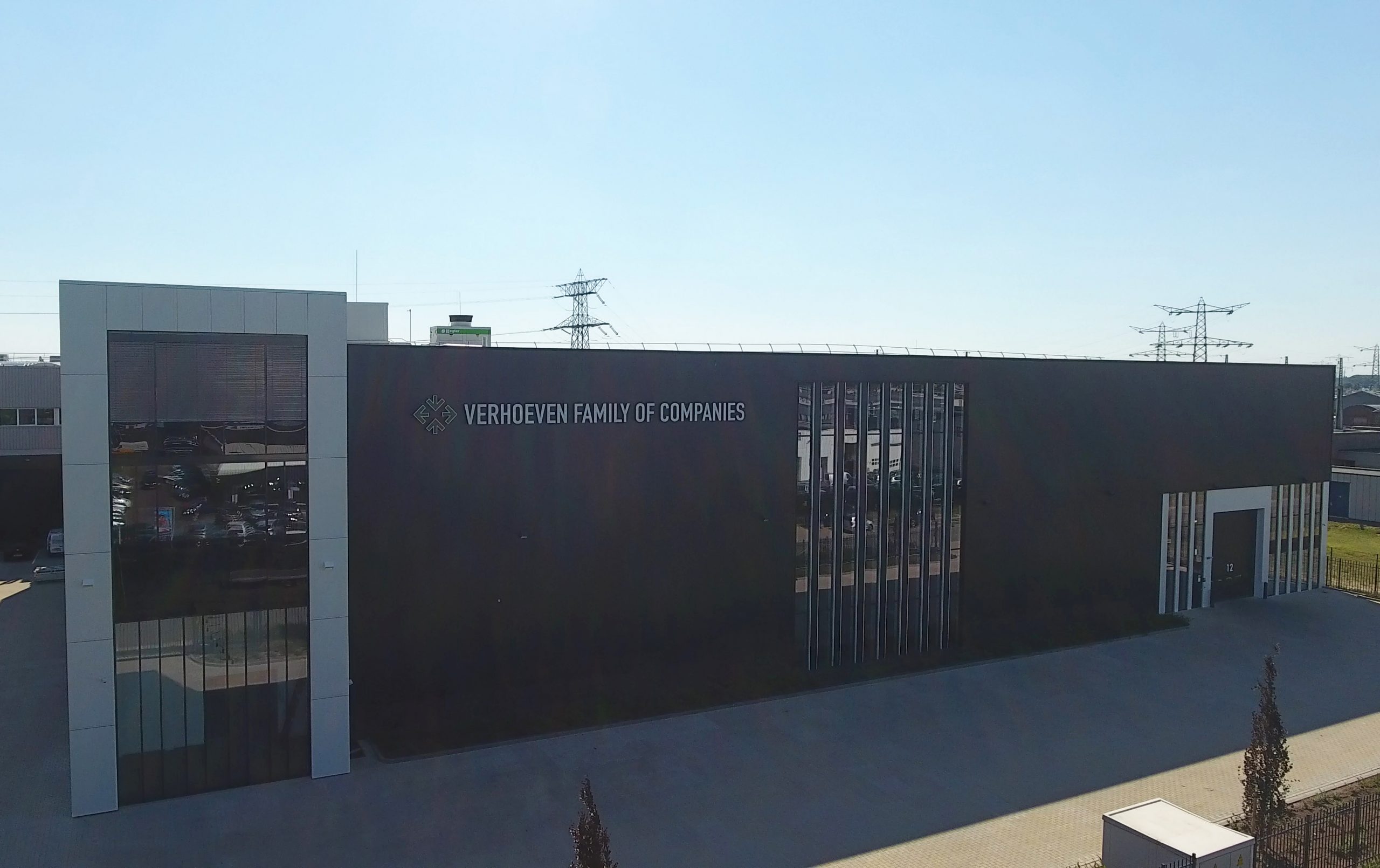 VERHOEVEN OSS IS NOW VERHOEVEN FAMILY OF COMPANIES
With the recent move to its new commercial premises, machine factory Verhoeven from Oss has realised a long-awaited transition that will give the company a stronger position in the market. 'VERHOEVEN FAMILY OF COMPANIES' is now proudly inscribed on the building's exterior: the collective name of an organisation that has been active for more than 50 years in the production of custom-made systems for internal transport, bespoke equipment, storage and material handling. In that time the company has grown to become one of the most important players in Dutch manufacturing (ranking 16th in the National Manufacturing Top 100 of 2019), with diversified specialisations and multiple strengths. Now the organisation is introducing two new families: Verhoeven Material Handling and Verhoeven Bakery Equipment Family.



Material Handling
Verhoeven Material Handling Family is the name we've given to the original activities of the umbrella organisation, which have now been consolidated in one dedicated branch of the family. Its objectives are designing, developing and producing solutions for internal handling and conveying applications. These solutions are being installed all over the world and finding applications in the most diversified industries.
Bakery Equipment
In the industrial bakery sector, the company continues to be an important global player as the supplier of turn-key projects for the creation of every dough-based product imaginable. This branch of the company employs a variety of specialists who possess expertise in bakery technologies in addition general technological know-how. Acquisitions in recent years have added the specialised brands BVT and NewCap to the Verhoeven organisation, plus with the introduction of another two specialised divisions – Vacuum Cooling and Baking Solutions, and Bakepack – Verhoeven Bakery Equipment Family has expanded its capacity to deliver large industrial projects turn-key ready. The Vacuum Cooling and Baking division is the market leader in its sector and, as an innovative specialist, makes an important contribution to the renewal and sustainability of production processes in the bakery of the future. Bakery Equipment Family's four independent labels will remain specialised players in the market in the years ahead; their close collaboration makes them uniquely positioned to offer total solutions.
'We make to make' and 'We make to bake'
For Hans Stoop, general director of Verhoeven Family of Companies, the repositioning and renaming are an excellent fit for the original character of the organisation. 'Our clients regularly tell us about the added value we as an organisation deliver by deploying our people. That goes hand in hand with our first principles: fulfilling our agreements as a team and not stopping until we've accomplished the goal. A family feeling is indispensible to this mission, which has naturally grown out of our origins as a family business. We now have two divisions – two "family branches" – in our organisation, but it's very clear that these originated in the same parent company. That's also reflected in our new slogans: "We make to make" (Material Handling), and "We make to bake" (Bakery Equipment). It's all in the family.
Overview location Oss https://vimeo.com/435123809